Take part in the Halloween Community Challenge!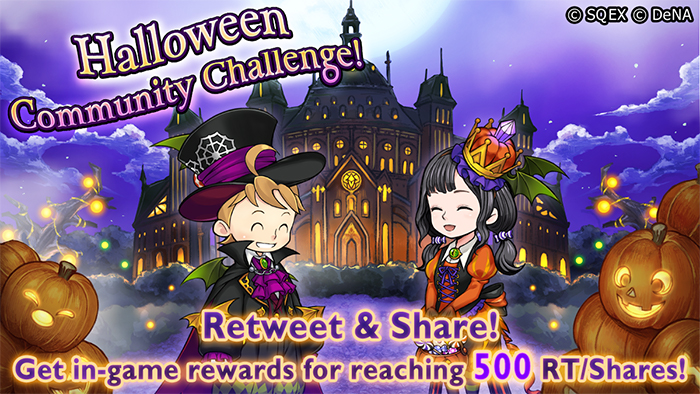 Follow the FFRK Twitter account and retweet the campaign announcement.
Following the FFRK Facebook account and sharing the campaign announcement also counts as a retweet.
If the community reaches a total of 500 retweets, we'll gift fantastic rewards in FFRK!
■How to Participate
1. Follow the official FFRK Twitter and/or Facebook accounts.
2. Retweet the campaign announcement on Twitter and/or share the corresponding Facebook post.
* Players can retweet/share the announcement on both sites (up to two retweets/shares per player).
* Note that Quote Tweets are not counted.
* You can carry out steps 1 and 2 in any order.
* Only retweets/shares of the campaign announcement count.
■Campaign Times
Until 4:59 AM 10/31 PST (12:59 PM 10/31 UTC)
■Rewards
-Mythril x5
-Realm/Elemental x11 Ticket x2
-Full set of Major Orbs x50
-Full set of Orb Crystals x30
-Full set of 4★ Motes x50
-Full set of 5★ Motes x40
* Items earned as a reward for retweets/shares during the campaign will be gifted to all players who log in during the claim period.
* Items will be sent to your Item Chest.
* Items in the Item Chest are deleted after 30 days. Please be sure to claim them before the claim period ends.
* You'll need to install the FINAL FANTASY Record Keeper app to receive rewards.
* The item distribution day is scheduled for approximately 11/4 PST (11/4 UTC).
* Schedule and details are subject to change without notice.
■FFRK Twitter
https://twitter.com/FFRK_Official
#FFRKWW
■FFRK Facebook
https://www.facebook.com/FinalFantasyRecordKeeper/
FINAL FANTASY Record Keeper is available as a free download on the App Store for iPhone, iPad and iPod Touch and on Google Play for Android devices.